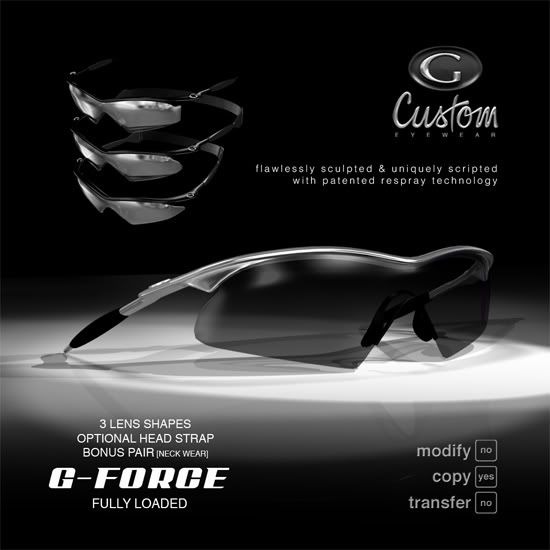 Experience G-FORCE, the latest addition to the best selling range from Gos
The ultimate in sculpted design, baked textures and interactive scripting, G-FORCE is styled with sweeping curves and a wrap around single lens to create a mean and moody look that's totally uncompromising. The advanced features of these distinctive shades leave every other eyewear contender for dead.
Benefit from:
Scale AND Stretch resizing for a bespoke fit to your avatar
Shape changing lenses - Sweep, Heater and Hybrid
Optional customisable military grade head strap
Ultra-realistic 3D texturing with colour update Respray System
A fully interactive bonus pair of shades designed to be worn on your chest
G-FORCE is supplied with an interactive glasses case and a custom pose stool. With no compromise on quality, G-FORCE is the future in eyewear, designed to give you the ultimate in style.
Available now from the Gos mainstore.