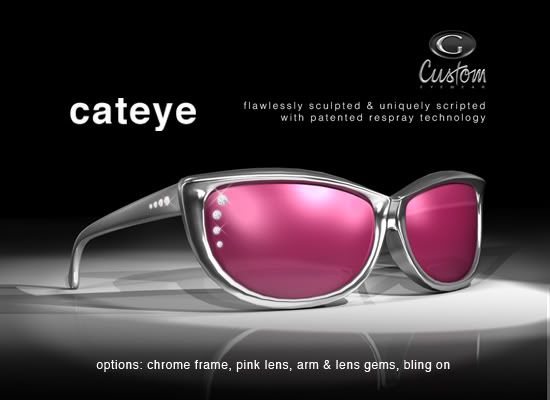 Introducing Cateye, the latest from the Gos Custom Eyewear range, available at the amazing introductory price of L$295. This is a limited time offer with a massive 50% discount, so hurry to the Gos mainstore to get yours.
These vintage inspired glasses have a modern feel and will definitely add some pizazz to your wardrobe. Smooth lines lead to angled corners with a feminine and distinctly feline feel; the lenses and arms are edged with colour change gems that can be shown or hidden according to your taste.
The gem options are just one feature in the sophisticated scripting system that gives you a huge range of options to create your own unique look. From the depth of tint to the gem and frame colours, glow, brightness, positioning and more, you can make your sunglasses unique to your avatar. Cateye comes pre-loaded with 12 basic texture presets, with more specialist resprays on the way, and as part of the introductory offer, each pair comes complete with a free Blossom texture respray to match the Spring Docs polish of the same name.
Available from the Gos mainstore or Xstreet.