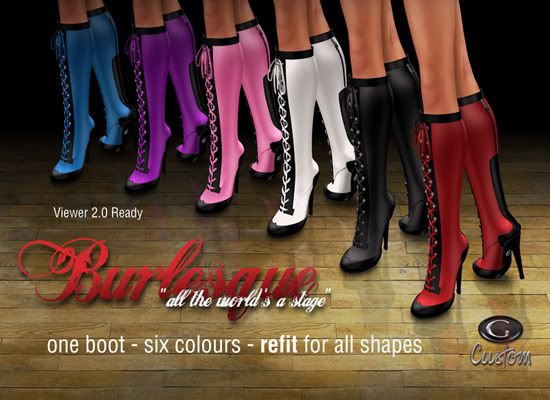 We're raising the curtain on our glamorous new knee high boot: presenting Burlesque by Gospel Voom for Gos.
Crafted in painstaking detail, Burlesque feature satin uppers and leather accents with elaborate lacing to the leg. With six vibrant colour options for both laces and satin, your Burlesques can be matched to a variety of styles and are suitable for both day and evening looks.
Retailing at just L$895 (includes all six colours) Burlesque comes fully scripted. Texture change is easy via the push button menu, with additional options to custom fit both the boot and invisiprim for an exact match to your own shape.
Resize by adjusting the width or the depth independently or scaling the whole boot. You can even use the HUD to change the position on your legs without using the manual SL controls. If you're not confident fitting or just need a little help, use the posestand included and ask a friend to make the adjustments for you. With so many variables and remote modifying, we've made it even easier to get your perfect fit.
Burlesque are also Viewer 2.0 compatible for your convenience.