Introducing Aviator, the essential new Winter boot from Gos. Immaculately detailed with exquisite stitching, folded seam beneath the zippered side, creased upper, thick-tread soles and leather strapped ring to the ankle, Aviator is the boot of the season with two separate lines to provide a unique look for both men and women.
Amelia was crafted for the female fashionista, complete with show/hide rolled sock tops and shape change between a tight fit zipping high on the leg, and the loose fit which pulls wider around the calf. Choose between 5 sock colours for the single boot colours and an array of 16 if you purchase the fatpack, shifting your shoe shape and changing your hosiery to allow complete customisation of your Amelia Aviators to best suit your outfits.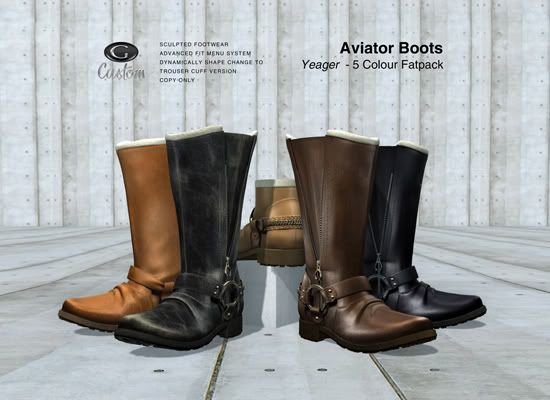 Yeager is designed just for men, coming with both the loose fit option to wear tall over your pants and a short style to sit comfortably beneath your trouser cuffs. Scripted for dynamic shape change, Yeager is both fun and functional, offering quick customisation to suit your latest style.
With advanced fitting menu for a completely personalised fit to your body shape, Aviator is available in single colours of Black, Camel, Chocolate, Tan and Worn or as a fatpack of all 5.
Add Aviator to your collection by visiting the Gos Mainstore or Marketplace now.